Workshops und Fortbildung
Zusätzlich zu den wöchentlich stattfindenden Kursen werden regelmäßig Workshops angeboten. Außerdem bietet SEAD verschiedenste Möglichkeiten der Fortbildung und Trainerausbildung - von Yoga bis Pilates.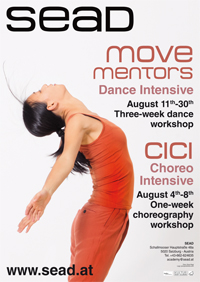 MoveMentors Summer Intensive
Three-week dance intensive in Salzburg, Austria
August 11th to August 30th
SEAD will give students a chance to experience SEAD in a three weeks workshop that gives the participants a taste of what daily life is like in our program. MoveMentors Summer Intensive workshop offers daily morning classes in yoga, contemporary and ballet taught by SEAD faculty. Afternoon workshops with the Mentors will include composition, improvisation, and partnering. The mentors will give you individualized coaching and mentoring in small groups – a rare opportunity to receive individual feedback and help in bringing out your best dancing. This is a unique opportunity to devote yourself to improving your technical level as well as to introduce you to SEAD's curriculum.
Our aim for the MoveMentors workshop series is to provide a format that will be inspiring, supportive and informative, giving students very practical skills and sound advice so that they can continue on their way in dance, surefooted and clear about what they need to focus on in order to progress as dancers. We also aim to offer an affordable workshop in a small group setting, where you can be in close communication with the teachers and other participants.
Costs
One MoveMentors week: 380 Euros (includes 7 meals)
Two MoveMentors weeks: 680 Euros (includes 14 meals)
Three MoveMentors weeks: 930 Euros (includes 21 meals)
TangoAkademie
22. bis 29. August 2014
Wir freuen uns, Pablo Pugliese und Noel Strazza auch 2014 wieder bei der TangoAkademie im SEAD begrüßen zu dürfen! Die beiden ausgezeichneten und begehrten Tangotänzer und -lehrer kommen wieder für eine Intensivwoche mit ganztägigem Kursprogramm nach Salzburg. Pablo und Noel stehen für höchste Qualität, die einzelnen Klassen richten sich an TänzerInnen des Levels Intermediate und Advanced. Nähere Infos und das detaillierte Programm hier downloaden:
BASI Pilates Trainer Ausbildung
BASI® Pilates Trainer Ausbildung im SEAD mit Natascha Eyber und Sara Canini. Die BASI®-Ausbildung ist ein Intensivlehrgang, der Pilates sowohl als technische, auf anatomischen und physiologischen Grundlagen beruhende Methode im Sinne von Joseph und Clara Pilates begreift, aber auch als eine harmonische Mischung aus Philosophie, Körperlichkeit und Atmung, aus Yoga, Tanz und Fitness.
Nähere Informationen und Termine: www.basipilates.at