Summer MoveMentors 2018
3 one-week workshops, August 6 – 25, 2018
Week 1: August 6 – 11, 2018 with Christine Gouzelis
Week 2: August 13 – 18, 2018 with Francesco Scavetta
Week 3: August 20 – 25, 2018 with Joy A. Ritter
SEAD will give students a chance to experience SEAD in a one-week summer workshop that gives the participants a taste of what daily life is like in our program. MoveMentors Dance Intensive workshops offer daily morning classes in somatic practice, contemporary and ballet taught by SEAD faculty.
Our aim for the MoveMentors workshop series is to provide a format that will be inspiring, supportive and informative, giving students very practical skills and sound advice so that they can continue on their way in dance, surefooted and clear about what they need to focus on in order to progress as dancers. We also aim to offer an affordable workshop in a small group setting, where you can be in close communication with the teachers and other participants.
Free accomodation and food during the Workshops will be provided!
For your online registration form please click here.
August 6 – 11, 2018 with Christine Gouzelis
Christine Gouzelis graduated from the National School of Dance in Greece in 2004 and received a scholarship for ImpulsDanz (DanceWEB) that year. In 2005, she became a company member of Jasmin Vardimon (UK), playing an influential role in the creation of "Justitia" & "Yesterday," which she toured nationally and internationally. She also performed with the Hellenic Dance Company in choreographies by Wim Vandekeybus, RootlessRoot, Anton Lachky, Pascal Rioult, Athina Valha, and others. In 2010, she took part in the "50days" workshop with Master David Zambrano in Costa Rica, training and performing in "Flying Low" and "Passing Through" techniques with 50 dancers from around the world. She has toured in Australia, Asia, Europe, and the U.S., collaborating, performing, and leading seminars and workshops at the SEAD Salzburg Experimental Academy of Dance, Greenwich Dance, Sadler's Wells, Hubbard Street Dance, Dance New Amsterdam, Strut Dance and Icelandic Listaháskóli. Previously a rehearsal director for Anton Lachky and Athina Vahla, in 2012 she became rehearsal director for the Jasmin Vardimon Company, a member of the creative team and responsible for the tour of the latest production of "Freedom." In 2013, she was part of David Zambranos's "Tierras Enamoradas" performed in Brussels.She has choreographed for Sadler's Wells, SEAD, Sussex Downs, the National School of Dance in Greece, and the Icelandic Listaháskóli. In 2010 she founded Jukstapoz Co. with Paul Blackman. Their ambition is to entertain the curiosity of audiences that have the tendency to observe the subnormal and appreciate the genre of physical dance theatre, by means of an offbeat, cinematic approach. Using a 'directors eye' in order to create multilayered atmospheres, they balance between the fractured reflections of the subconscious and classic themes and issues.
August 13 – 18, 2018 with Francesco Scavetta
"A Surprised Body" Francesco Scavetta propose a personal approach to contemporary dance, based on release technique, floor work and improvisation, influenced by his experience as a dancer and choreographer, and by his practice of tai chi chuan, that links a deep transformation of the body to a delicate poetic of the movement. Already as a title, "A Surprised Body" defines a metaphorical space. The image of a body in a state of constant alert, able to surprise itself and to escape from habits and any other kind of routine. A body more focused on reacting than on acting, on receiving, rather than doing. The goal is to let the movement to cross freely through the body, with isolation in the limbs and organic innovation. Throughout a structured score of exercises, that combines floor work, hands-on exercises, tai chi chuan and movement sequences, the physical training focuses on centering and gravity; on awakening the internal and external supports, while allowing isolation in the limbs and flow in the movement The teaching project "A Surprised body" has been invited internationally in 44 countries in North, Central and South America, Europe, Africa, Middle and Far East.
 
Born in Salerno (Italy), Francesco Scavetta studied at National Academy of Dance of Rome, graduated in Theatre and Performing Arts and Post-graduated in Sciences of Communication. Choreographer, and dancer, Francesco Scavetta is the artistic director of the Norwegian dance company Wee. In the last years, Wee has been touring in 36 countries, becoming one of the leading companies of the Norwegian scene. Scavetta has been giving workshops amount others at: P.A.R.T.S./Brussels, IMPULSTANZ/Wien, Henny Jurriëns Foundation/Amsterdam, SEAD Salzburg Experimental Dance Academy, Greenwich Dance/London and in many dance/theatre festivals. Since 2012, Scavetta has established Vitlycke – Centre for Performing Arts, a new residency place, in the middle between Oslo and Göteborg. www.vitlycke.org
Scavetta's theatricality have often been associated with the atmosphere of a weird dream or to a playful world of a child: strange, funny, poetic and, at the same time, surprising. The performances created changes in format and aesthetic: to the delicate memories of "Daddy always wanted me to grow a pair of wings", that looked like an old black and white movie found in the loft, we contra-posed the complex use of technology of performances like "Live*", co-produced by the Biennale of Venice. Live* won the first price at 30° Edition of the International Competition for Electro-acoustic Music of Bourges/France. The latest projects, "Hey dude, let's stick around a bit longer this time" and "And I just stood there, watching the sky and the people below" have their conceptual starting point from a curiosity in the theme of the "consciousness" and have a different unconventional dramaturgical structure. wee-francescoscavetta.no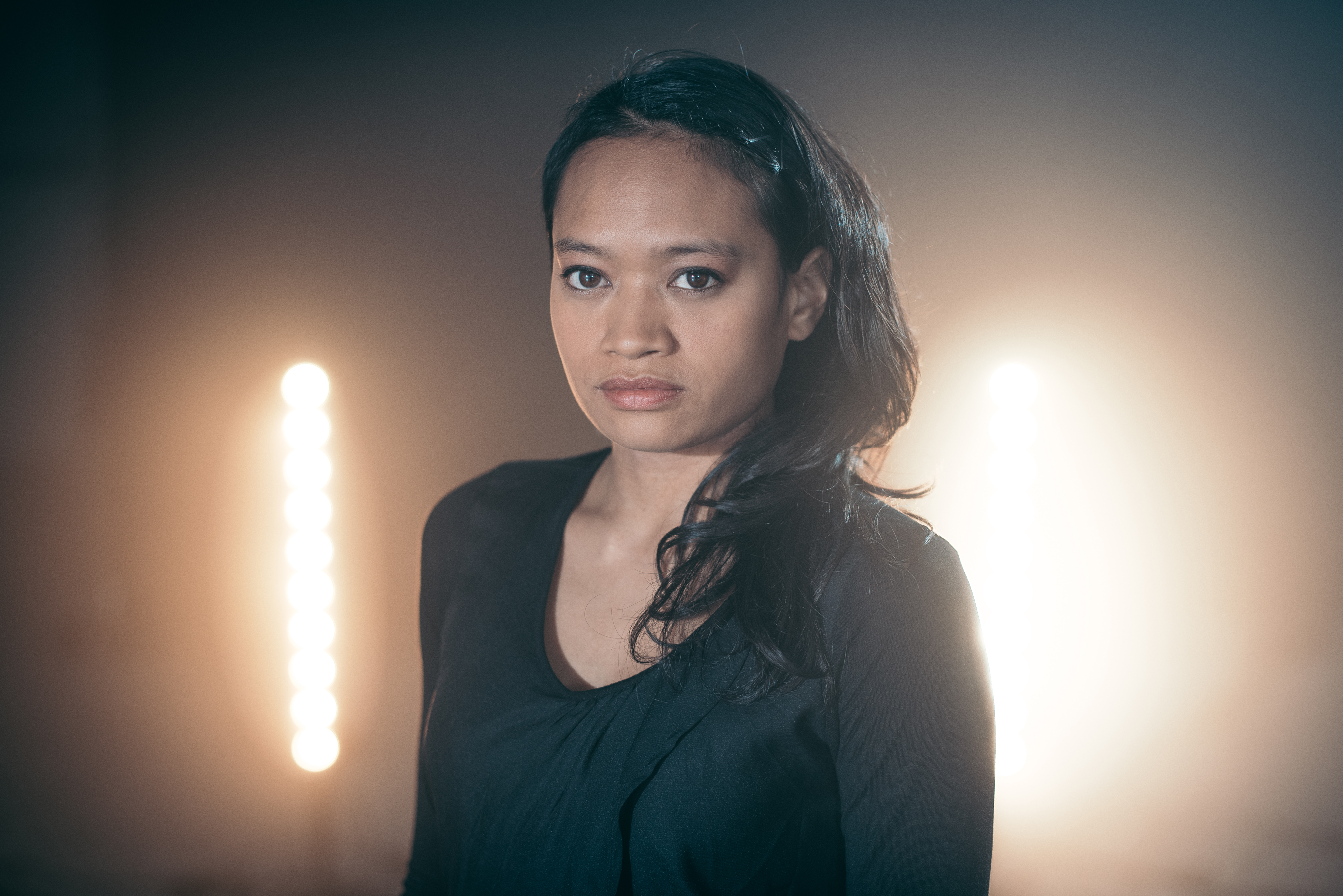 August 20 – 25, 2018 with Joy A. Ritter
Joy Alpuerto Ritter known as Joy was born in 1982 in Los Angeles, CA, USA. She was raised in Freiburg in Breisgau, Germany where she took her first ballet classes at the Ballettstudio Krain at a very young age. In these 10 years she was trained in Ballett and Jazz and took part at the RAD (Royal Academy of dancing), dance competitions and dance performances with the philippine and polynesian dance group that was lead by her mother.
At the age of 17 she was accepted at the Palucca School for Modern Dance in Dresden, Germany and graduated with a Dance Diploma in 2004. In 2003 she received the Esther-Arnold- Seligman scholarship that included the participation of the American dance festival and spending time in New York for further Training.
In 2004 she started working as a contemporary freelance dancer in and around Berlin with choreographers like: Christoph Winkler, Anja Kozik, Constanza Macras, Wangramirez and Heike Hennig. During this time she expanded her repertory in Hip Hop/ New Style, Break dance and Voguing and took part in several Dance Battles like Voguing out Berlin, Defipayette, Funkin stylz and Juste Debout.  In 2011 she joined Cirque du Soleil as a dancer and aerial artist in the Michael Jackson Immortal World Tour and performed the arena show in USA, Canada and Europe for 2 years.
Since 2013 she has been a member of the Akram Khan Company in the Shows "Itmoi", "Kaash" and the current Piece "Until the lions" where she was nominated with "outstanding female performance (modern)" at the UK national dance Awards 2016. She is also part of the Wangramirez Company that includes urban dance in its repertory and is touring with the current Piece "Everyness". In the last years she has also been working as a choreographer and created 2 Solo pieces "BABAE" and "Alter Egos". joyalpuertoritter.com