shira eviatar – guest artist from Israel
Shira Eviatar is an independent choreographer and dancer based in Tel Aviv and a DanceWeb scholarship program participant (2015). She has performed her works in festivals throughout Israel and Europe, such as Curtain Up, Diver Festival, International Exposure, Malta Festival, Fresh – Tanztage Braunschweig, EPOS Film Festival/ Tel Aviv Museum of Art. She has been recently invited by the Bat-Sheva Dance Company to perform her newest work Rising, which she will also show in SEAD this September where she is currently working as an artist in residence.
Shira researchs into the forms within tradition and the knowledge they contain, the embodiment of belief systems, values, past generations, through the practicing of aesthetics. In her works she examines movements etched in the body, sourced in tradition of celebration. She is fascinated by the roots of the body and mind and how we embody our traditions and cultures. Some of her works include Body Roots, Body Mandala, Rising, Three Generations: One Body, Kosher and De-Port Workers.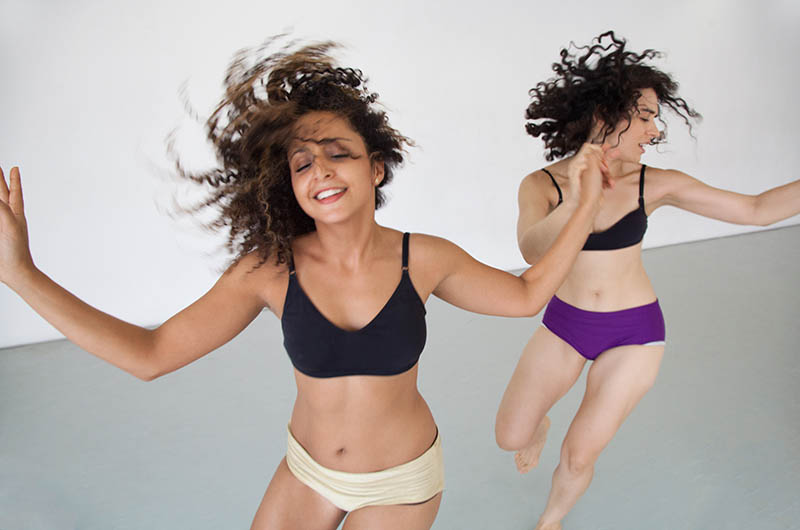 In the content of SEAD's intercultural exchange project Hidden States, the audience in Salzburg is invited to a public showing of Shira's last work Rising (2016): The work is an encounter of two bodies of knowledge from two different cultures: Yemenite and Moroccan. The dance of celebration is displaced out of its context and set on stage, striped from its ethnic aesthetics, allowing us to compare and contrast the similarities and differences between the two traditions. Through the action of "re-wearing" these movements they hope to raise feelings, sensations and mindsets belonging to these cultures. Both artists examine the junction of the ethnic body and physical body. The work hopes to provide an unbiased space for this Arabic identified movements, allowing us to observe the movements as they are.
Rising relates to the earlier works Body Roots and Body Mandala. Body Roots is a solo performance which uses masks to examine images and representations of her family and how they are carried in Shira's body and mind. The work examines the intersubjective approach. Body Mandala is a solo work which focuses on the movements of celebration of her Moroccan grandmother, embedded from childhood. The work unravels her cultural heritage into the present experience, establishing new bodily synapses for a future movement. The work seeks to question the artistic ascetics based in Israel and attempts to recentralize Mizrachi culture in contemporary dance. 
Artistic context
"Through my own narrative I connect to social and cultural context. In my work  

I focus on elements erased from culture and history, disappearing from  

mainstream society, designated as non-relevant or inferior. I try to make  

space for those narratives that have been excluded or erased.

In the last few years I have been exploring my Moroccan Heritage in relation  

to my individual story as well as the collective narrative of Arabic Jews  

(Jews that have migrated from Arabic countries).  A motivation of my work is  

related to my father denying his Moroccan Arabic roots and excluding it from  

his life, as he embodied a belief system that is grounded in the Israeli  

narrative. In Israeli society, as the country was built, various narratives  

crossed paths in time and some became mirror images of others, some became  

hegemonic and some were erased. For example, in Israeli schools history is  

taught from the perspective of European Jews but history of Jews from other  

regions is excluded from the curriculum.  This is an example of policy and  

belief systems that protect and create hierarchy by defining what is  

meaningful in identity and who needs to reform in order to fit into the  

hegemony.

I celebrate my Moroccan heritage, the movement of celebration that are etched  

in my body as a counter action to my father's erasing and to society's  

hegemony. Through my work I hope to provide an unbiased space for this Arabic  

identified movements. I am trying to broaden the gaze on this movement and to  

let it exist without minimizing it to one closed image but rather to offer  

its richness, celebrating it, allowing it to be a source for movement  

research. I re -write my body history by creating new bodily synapsis using  

tools of choreography and creation. Through rehearsals and movement research,  

I take and restore those movements, reclaiming my political body." (Shira Eviatar)
Currently Shira Eviatar is working on a new work, a solo piece for the dancer Evyatar Said. The work Eviatar / Said (2017) draws a personal cultural landscape from the Yemenite Tradition: movement, dances, rhythms, gestures, values, way of thinking and communication that together compose a language that is practiced as one's heritage. By entering the public space, this language becomes recognized, identified as "other". On stage, Said migrates into his home; he deconstructs and rewrites his body memories, his bodies of knowledge, emotions and sensations as he celebrates the possibility of establishing an independent body in the present.
RISING
Public showing
Shira Eviatar and Anat Amrani
September 25th, 2017
5.pm, SEAD / The Josef Eckhart Theatre
Get to know more about the artist: shiraeviatar.com