CASTING 2019: Werde Tänzer/in der D.Company!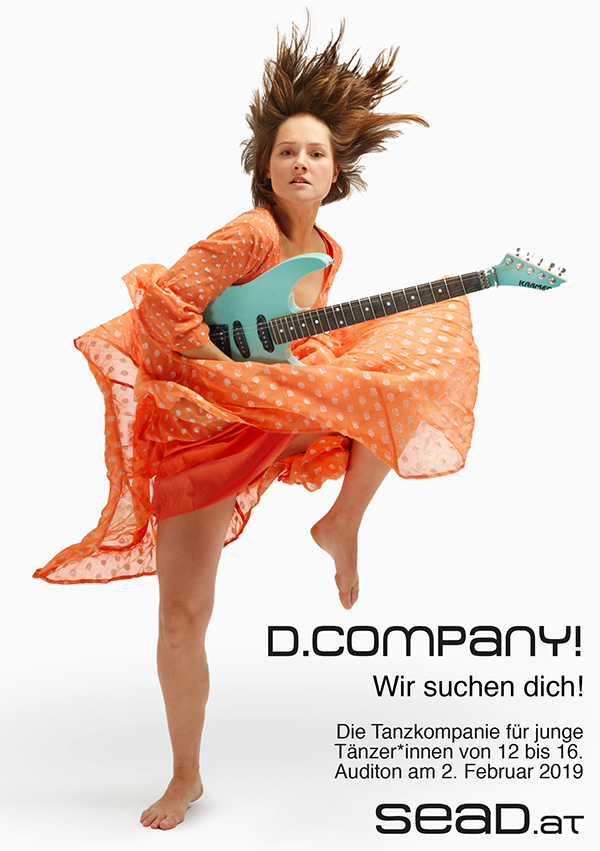 SEADs d.company! ist eine Tanzkompanie für Jugendliche im Alter von 12 bis 16 Jahren, die von März bis Juni 2019 gemeinsam mit den Choreografinnen ein zeitgenössisches Tanztheaterstück erlernen können. Du bist ein Bewegungstalent? Du träumst davon auf der Bühne zu stehen, zu tanzen, kreativ zu sein? Dann werde Tänzer/in der D.Company! Komm zum Casting und zeig uns, was du kannst!

nächstes Casting - Winter 2020
wir sehen uns dort!

Anmeldung für das Casting:  an This email address is being protected from spambots. You need JavaScript enabled to view it. (für Anmeldeformular hier klicken)

Probenzeiten:
jeweils Samstag und Sonntag (ca. 4 Stunden inkl. Pause)

09, 10, 16, 17, 30, 31 März 2019
27, 28 April 2019
04, 05 Mai 2019
01., 02. Juni 2019
07., Juni 2019 (Odeion)

Aufführungen:

Samstag, 08. Juni 2019
Sonntag, 09. Juni 2019 
Die Teilnahme für 15 TänzerInnen ist kostenlos!* Als Tänzer/in der D.Company! wird dein Talent gefördert und du erhältst ein Stipendium des Landes Salzburg.
Die Namen der ChoreografInnen werden noch bekannt gegeben.
* Mit freundlicher Unterstützung von:
d.company!
SEAD's D.Company! wurde im Jahr 2011 von Susan Quinn, Gründerin und Direktorin von SEAD, ins Leben gerufen. Ziel der D.Company! ist die Förderung junger Tanztalente, die im Zeitraum von drei bis vier Monaten die Gelegenheit haben, in einer Tanzkompanie ihre tänzerischen und darstellerischen Fähigkeiten auszubauen und bei den abschließenden Aufführungen erste Bühnenerfahrung zu sammeln.
Jedes Jahr lädt SEAD ChoreographInnen, TänzerInnen und TheatermacherInnen dazu ein, mit der Jugend-Kompanie zu arbeiten. Seit Gründung der D.Company! übernahmen die Schauspielerin und Theatermacherin Dorit Ehlers, die Tänzerin und Choreographin Mirjam Klebel, die Hip Hop- und Breakdance-Artistin Clara da Costa und der Tänzer und Choreograph Tomaz Simatovic sowie Stefan Baier, die beiden Tänzerinnen Rotraud Kern und Adriana Cubides und zuletzt Yaghvali Falzari für je eine Saison die künstlerische Leitung der Kompanie. 2019 wird Yaghvali Falzari und die Assistentin Jovana Zelenovic die Leitung der D.Company übernehmen.
Yaghvali Falzari received her ballet training in France with national and international teachers. She studied different schools of classical ballet (French School, Vaganova, Bournonville, and American School). She also trained in contemporary and modern dance (Graham, Cunningham, Horton, Limon techniques) amongst other styles. She has worked in France, Italy and in London both as a freelance dancer/choreographer and as a member of different companies. She also trained as a teacher and taught in schools. In 2010, she moved to London and dedicated herself to teaching. There her teaching work has increased and expanded.
Yaghvali discovered the Zena Rommett Floor Barre® technique for herself in London and found it really beneficial and wanted to pass on her knowledge and experience.  She annually takes part in the Floor Barre® Teacher Seminar held by the Zena Rommett Foundation. She taught both ballet and Floor Barre® in London, working with the Michael Clark Company, the London Theatre School and as a private and freelance teacher.
In 2014 she left the UK to work as a guest teacher for various institutions across Europe and resume a choreographic work in France. She is also a BTEC qualified Sports and Remedial Massage Therapist (ISRM, United Kingdom) and has earned both Bachelor and Master degrees in Arts History and History at Université Lumière Lyon 2 (France).

Die Teilnahme der 15 TänzerInnen ist kostenlos*. Dies wird jedes Jahr durch die Vergabe von 15 Stipendien des Landes Salzburg ermöglicht.