babylon, once again
Notes on the new creation by Cecilia Bengolea
A choreographer from Argentina (but based in France), dancers from Colombia, France, Hungary, Mexico, USA and Spain, and a dance scholar from Israel, meet in a dance studio in Austria. It sounds like the beginning of a bad joke but it is reality, and for the people living it, a given, nothing out of the ordinary. On the contrary, there is nothing new about it. In a famous scene in Pina Bausch's 1980, the dancers of Tanztheater Wuppertal take turns in striding up to a microphone and naming three things from their country of origin, as Land of Hope and Glory (a British patriotic song) plays. I am reminded of this scene as I watch the dancers of Bodhi rehearse a scene where, accumulatively, they sing their national anthems, each, of course, in his own native language. It is not long before their singing becomes a complete cacophony and the image of the biblical story of Tower of Babel comes to my mind. According to the story, humanity, once united, spoke a single language, but after an attempt to build a tower tall enough to reach heaven, God confounded humanity's speech to many languages, and mankind could no longer understand each other, and was scattered around the world. And yet, here we are again, a few representatives of mankind gathered together, in Salzburg, determined to create something together, mind and body.
"Every artistic collaboration is a contingent experiment in democratizing democracy," says Rudi Laermans in his essay on artistic collaboration in dance. Working as Cecilia does, with the dancers as co-authors, requires from all parties trust, persistence, daring, and it involves much indeterminacy, wandering, experimenting. It is a collective endeavor, a joint effort, much like building a tower together, or doing politics. But DANCING IS NOT A METAPHORE - a scribble I had written in my notebook at one of the rehearsals reads. The dancers do all that with their concrete bodies, and seeing their devotion is exactly what makes it so affective. Devotion as the task of the dancer, claims Andre Lepecki, is a political affirmation: "with the performance of devotion, the choreographic reveals itself to be that which produces an agent, that which produces an affect, and that which reminds us that the political, in order to come into the world, requires commitment, engagement, persistence, insistence, and daring." As I write these lines, I don't know yet whether Cecilia's work will make such a political statement or not, but right now, I cannot avoid thinking of this creation process as metonymical to politics, which is exactly what underlies the way Lepecki suggests critical theory should "address the choreographic dynamics of social movements and social change – regardless if those movements and changes will eventually manifest themselves on the stage or in the streets."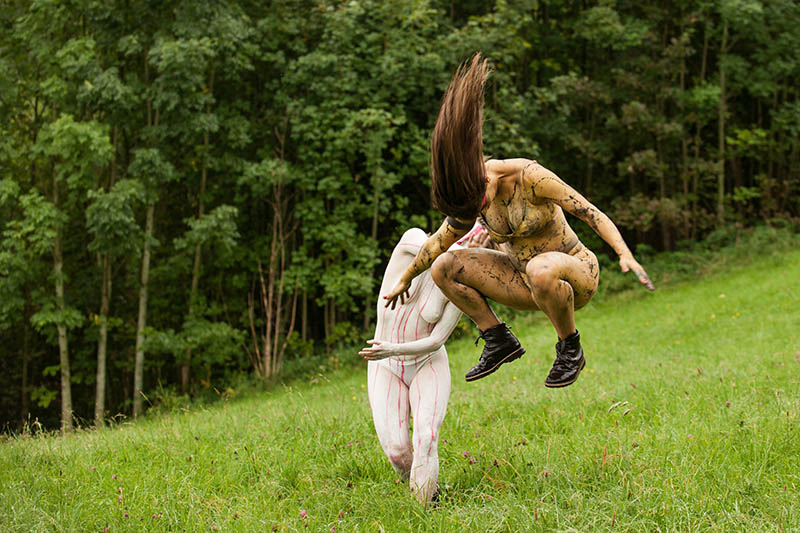 This metonymical relation of dance and politics can also be read in Zygmunt Bauman's essay "from nation building to globalization", in which he unfolds a description of what could easily portray the becoming of dance in the studio: "Ways of life today drift in varied and not necessarily coordinated directions: they come into contact and separate, they embrace and repel, enter into conflict, or initiate a mutual exchange of experience or services – and they do all this… floating in a suspension of cultures, all of a similar, or of a wholly identical specific gravity." It is not just Bauman's figurative writing style that prompts me to think of Cecilia's work through his eyes, but his poignant observations that "Europe is transforming before our very eyes into a mosaic of diasporas" and while doing that "supposedly stable and unquestionable hierarchies and one directional evolutionary pathways are today replaced by contentions for the permission to be different," and maybe most importantly in regards to the dance is his argument that "cultural relations are no longer vertical but horizontal." Here, Bauman sheds light on the logic of syntax in Cecilia's bricolage of Hungarian folk dance, Jamaican dance hall and ballet en pointe, her "liquid dramaturgy" releasing a Babylon of dance styles, musical line-up, texts and references, that at times feels like wandering, horizontally, through YouTube, Instagram or Facebook, mirroring our Zeitgeist.
Back to the story of Tower of Babel. Some Jewish Biblical commentaries ask what exactly humanity's sin was, and reply that it was speaking only one language – not the language of a certain nation, but in single voice, in unison, as one, hence not enabling differences, nuances. Well, perhaps this time we succeed, not despite - but because, we speak different languages, inspired by the other's otherness, embodying it as part of our practice, always aspiring for diversity. "To live with the other, live as the other's other," tells us Hans-Georg Gadamer "is the fundamental human task." And Europe's task, he adds, "consists of passing on to all the art of everyone learning from everyone." Isn't that what we do in the studio?
(by Ran Brown)
Bibliography
Bauman, Zygmunt. "Culture in a liquid modern world." John Wiley & Sons, 2013.‏
Laermans, Rudi. "'Being in common': Theorizing artistic collaboration." Performance Research 17.6 (2012): 94-102.‏
Lepecki, André. "Choreopolice and Choreopolitics: or, the task of the dancer." TDR/The Drama Review 57.4 (2013): 13-27.‏