yoga teacher training

Foto: ME 2019
Our RYT300 was postponend to 2024. If interested, please let us know as we would love to pencil you in. Just write us a quick email to This email address is being protected from spambots. You need JavaScript enabled to view it.. In summer 2023, we will organize RYT200 again!
The International Hata Yoga Teacher Training Certification RYT 200 comprises of practices from traditional HATA yoga styles inspired by Hata Yoga Pradipika and Yoga Sutras, like Satyananda yoga (Bihar school), Astanga Vinyasa (Mysore school), Iyengar Yoga and other modern approaches to teaching. RYT 200 graduates will be eligible to teach internationally. Particularly suitable for dancers as physical background training is requested.
Module 1: Abhayasapada (Asana and Adhyayanapada)
The first module focuses on strong fundamentals and is based on a traditional format of yoga education as practiced in India. Abhyasa (practice), Adhyayana (research) and Sadhana (mastery) are the 3 core training components of the shaala and form the basis of all its courses. This module builds deeper awareness of your strengths and challenges.
       You will learn:
1.1. Practice and master hatha yoga techniques mentioned in traditional yogic texts.
1.2. Discuss and debate yogic philosophies (Sankhya, Ashtanaga and Hatha).
1.3. Understand eastern and western approaches to body, mind and beyond.
Module 2: Teaching Methodology and Exam
The second module is all about effectively communicating one's experience and knowledge of the practices with aspiring students. This module blends modern and traditional teaching methodologies. Yoga has been evolving, so are the teaching methodologies; discover what it takes to be an inspiring yoga teacher, a life coach.

       You will learn:
2.1. How to teach Hatha yoga sessions, be a thorough professional yoga teacher.
2.2. Design, sequence and execute tailor made yoga sessions for varying needs.
2.3. Build confidence to handle group and personal yoga sessions.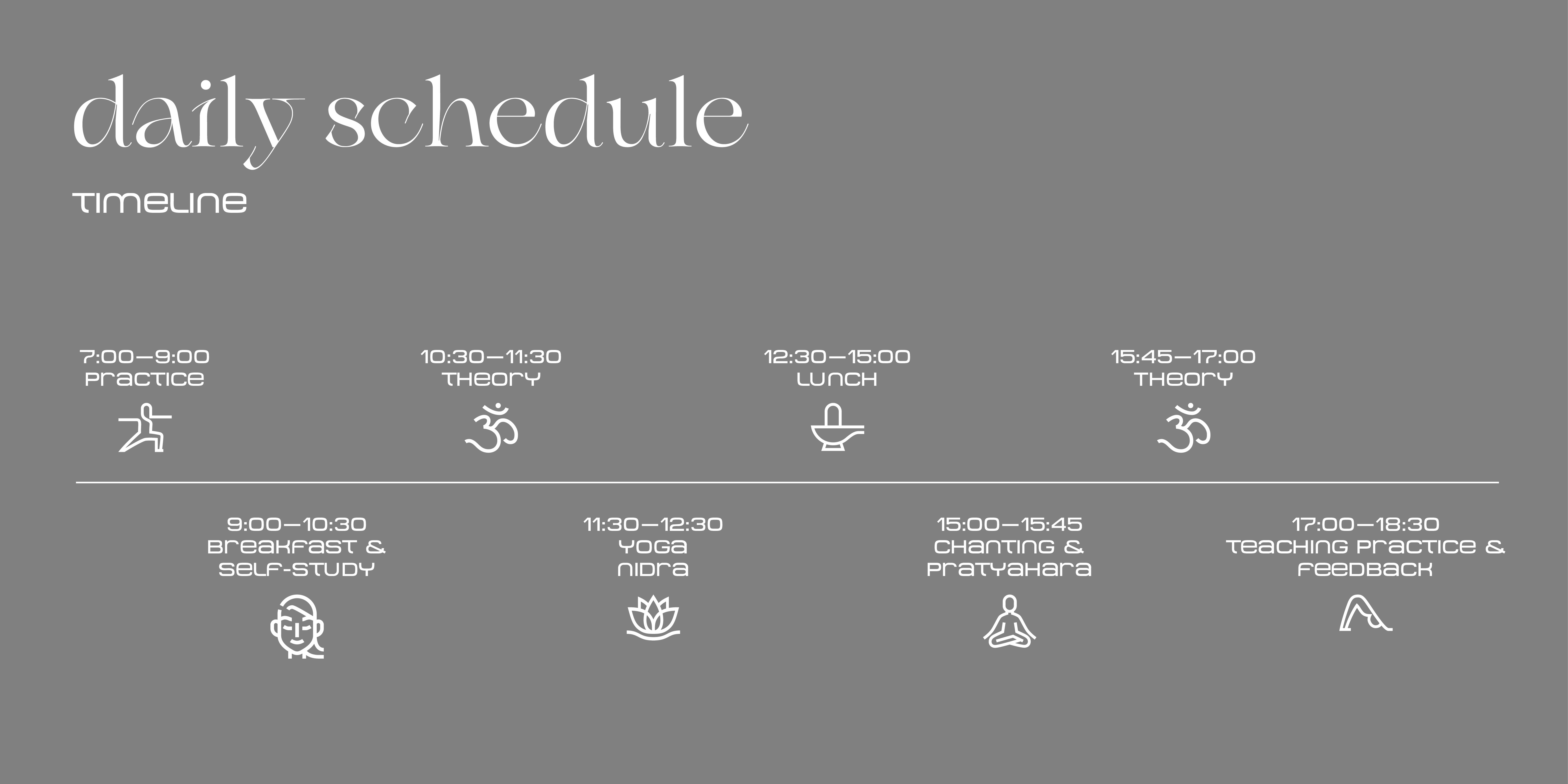 Dates

July/August 2023 (exact dates to be announced shortly)
The course will take place at SEAD Salzburg Experimental Academy of Dance which is tucked away into the tree lined hillside of Kapuzinerberg Salzburg. SEAD is a ten-minute walk away from the city center and you will have access to both a small city environment as well as scenic woodlands and nearby lakes.
Eligibility     
18 years and above, physical background training.
Languages     
The whole course will be instructed in English along with relevant Samskruta terminologies and mantras.
Teachers
We have accomplished teachers coming from a1000yoga Bangalore, India to welcome and guide you through your Yoga education.

Pradeep Sattwamaya (Deep) Principal Teacher
Pradeep had the blessed opportunity to be accepted as a disciple by his guru, Paramhamsa Swami Niranjanananda Saraswati ( In the lineage of Shri Adi Shankara, Swami Sivananda, Swami Satyananda ). Pradeep spend two full years imbibing and living yoga at Gangadarshan, a Yoga gurukula along the banks of river Ganga in Bihar. He has now completed first 12 year phase of discipleship.

Under Shri Pattabi Jois' AYRI, Bangalore, he gained clarity of the nuances of Ashtanga Yoga – primary Series. His Iyengar Yoga training was under Shri Arun, Bangalore, a direct disciple of Shri BKS Iyengar of Pune, India.
Pradeep is an engineering graduate by education, entrepreneur by vocation, and a Hata yogi by samskara. He draws immensely from his past experiences, a wealth of knowledge specific to Yoga, Ayurveda and Indian philosophies, bringing into each engagement an Authentic and a holistic approach. He started practicing yoga as a seven year old, learning classical asanas from his father and later devoted full time to studying yoga, graduating M.Sc. program in Yogic sciences (from the world's first yoga university, Bihar Yoga Bharati, Munger, India, with a university gold medal).

He has been teaching yoga in Mysore, Bangalore, Bangkok, Kuala Lumpur, Colombo, and Hyderabad and is adept at Bihar, Iyengar and Ashtanga schools of yoga. Pradeep currently heads a1000yoga and facilitates teacher training courses at the 200 hour, 500 hour levels and specialization yoga courses for Prenatal, Sports and Children. He has been training and mentoring over 1000 budding yoga teachers since 2006. Pradeep believes and practices "Yoga for Yoga".