yoga teacher training (ryt 300)

Foto: ME 2019
Our RYT300 was postponend to 2024. If interested, please let us know as we would love to pencil you in. Just write us a quick email to This email address is being protected from spambots. You need JavaScript enabled to view it.. In summer 2023, we will organize RYT200 again!
Our RYT300 is a professional course taught by our Bangalore Yoga Faculty of a1000 Yoga. This course is for serious yoga teachers and dedicated yoga practitioners. This program is structured to enhance and develop beyond the foundational levels of RYT200. The course comprises of practices influenced by Satyananda Yoga (Bihar school) and Ashtanga Vinyasa and their approach to teaching. Built around the traditional components of Abhyaasa (practice), Adhyaayana (research) and Saadhana (mastery). The RYT300 program is a tailor-made curriculum designed to nurture the advanced Yogi / Yogini in you.  

The RYT 300 delves deeper into the topics covered in a RYT200 and on additional topics that enhance the very understanding and practice of Yoga, paving way for a smooth transition to the higher level of the journey.

Syllabus
Practice: Apart from fine tuning the fundamentals, the subtler layers of the Asana and Pranayama practices are introduced. Traditional Hatha practices like Shatkarma, Dhyana Poorva Asanas, Ashta-Kumbhaka, Mudra & Bandhas are part of this intense course. The 8 stage Yoga Nidra, Prathyahara & Dharana practices are at the core of the second part of the course.

Theory: Building on the introduction to Vedic philosophies of level 1, this course discusses and debates these philosophies further along with a deeper study based on the traditional approach. With a health perspective, the understanding of the physiological body and mind is gained through the study of Ayurvedic texts. Diet and lifestyle practices appropriate for the current time and age are reconsidered through the Ayurvedic lens.

Teaching methods: This module prepares one to go from being a good yoga teacher to an inspiring yoga teacher. One learns to teach in more challenging formats and to better informed audiences by acquiring skills to teach workshops, courses and yoga retreats. Application of Yoga to varied audiences, including thérapeutiques, is also a part of this module. Traditional and modern teaching techniques are blended to equip the teacher with global best practices.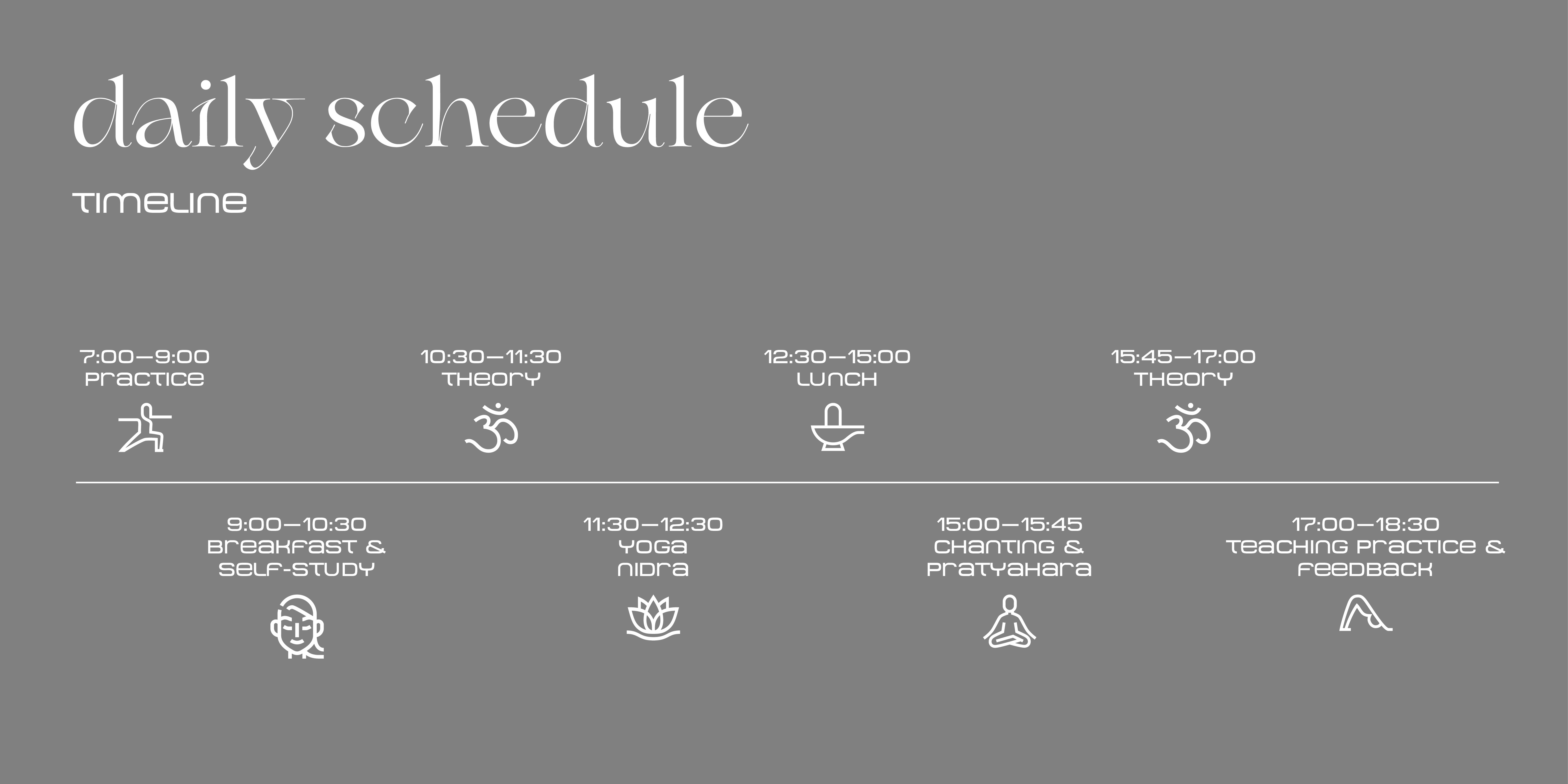 Dates and venues

18 July - 21  August 2022

The first four weeks from 18 July to 13 August, the course takes place at SEAD in Salzburg (Austria) and continuing with one-week residency from 14 - 21 August at SQFARM., Anger (Germany).
SEAD Salzburg Experimental Academy of Dance is tucked away into the tree lined hillside of Kapuzinerberg Salzburg. SEAD is a ten-minute walk away from the city center and you will have access to both a small city environment as well as scenic woodlands and nearby lakes. Venues are within 30km distance and transportation to SQFARM. is pre-organized and set by organizers for the whole group, no individual arrangements possible.
Graduation ceremony: 21 August 2021
Price
Early bird price : € 3.400,- (until 28. Feb 2022) | € 3.700,- (regular price)
Prices include breakfast, lunch (from 18 July - 13 August) at SEAD and 7 nights fullboard (from 14 - 21 August) in a tent dormitory* for 3 persons at SQFARM.
single bed room with shared kitchen and bathroom*: plus € 400,-

2 bed studio appartment with bathroom and kitchen*: plus € 220,-


3 bed room with shared kitchen and bathroom*:  plus € 120,-
*places are limited
Registration
Click here for registration
Only a few spots left! Registration deadline is 10 May.
Certificate
Yoga alliance RYT300 (recognized internationally and entitles to teach)
Eligibility     
18 years and above, 2 years of regular yoga practice, RYT200 from any Yoga Alliance registered school.
Languages     
The whole course will be instructed in English along with relevant Samskruta terminologies and mantras.
***
Teachers
We have accomplished teachers coming from a1000yoga Bangalore, India to welcome and guide you through your Yoga education.

Pradeep Sattwamaya (Deep) Principal Teacher
Pradeep had the blessed opportunity to be accepted as a disciple by his guru, Paramhamsa Swami Niranjanananda Saraswati ( In the lineage of Shri Adi Shankara, Swami Sivananda, Swami Satyananda ). Pradeep spend two full years imbibing and living yoga at Gangadarshan, a Yoga gurukula along the banks of river Ganga in Bihar. He has now completed first 12 year phase of discipleship.

Under Shri Pattabi Jois' AYRI, Bangalore, he gained clarity of the nuances of Ashtanga Yoga – primary Series. His Iyengar Yoga training was under Shri Arun, Bangalore, a direct disciple of Shri BKS Iyengar of Pune, India.
Pradeep is an engineering graduate by education, entrepreneur by vocation, and a Hata yogi by samskara. He draws immensely from his past experiences, a wealth of knowledge specific to Yoga, Ayurveda and Indian philosophies, bringing into each engagement an Authentic and a holistic approach. He started practicing yoga as a seven year old, learning classical asanas from his father and later devoted full time to studying yoga, graduating M.Sc. program in Yogic sciences (from the world's first yoga university, Bihar Yoga Bharati, Munger, India, with a university gold medal).

He has been teaching yoga in Mysore, Bangalore, Bangkok, Kuala Lumpur, Colombo, and Hyderabad and is adept at Bihar, Iyengar and Ashtanga schools of yoga. Pradeep currently heads a1000yoga and facilitates teacher training courses at the 200 hour, 500 hour levels and specialization yoga courses for Prenatal, Sports and Children. He has been training and mentoring over 1000 budding yoga teachers since 2006. Pradeep believes and practices "Yoga for Yoga".
Indira Vasanth

Indira's earliest encounter with yoga was a complimentary yogasana class held at her college in Chennai. She enjoyed the practice thoroughly but did not pursue it – finding aerobics and swimming and Jane Fonda far more 'glamorous' and exciting. At that time, she says, 'I had zero knowledge of just how incredible an art, science and philosophy yoga is'.Following a Masters in Communication, Indira began a 25-year long career in advertising. The stress and, eventually, the meaninglessness of her work led her to dive deeper into the practice of yoga.Initially it was all about mastering the asanas, but a couple of years into her practice, her Ashtanga Vinyasa Yoga teacher introduced her to the texts and philosophy behind the practice, and there was no looking back. With her teacher's encouragement, the next several years were an 'insane mix of advertising, intense personal yoga sadhana and study of yoga philosophy'. Quitting advertising to pursue the practice and study of yoga full-time was, she says – inevitable.

Indira completed her RYT 200 and RYT 300 and has, since then, been teaching full-time at a1000yoga. She has now been on the faculty of a1000yoga Academy's Teacher Training Certification Courses as a lead teacher for several years.

Indira's approach is to always offer her practitioners more than just a physical practice or experience. 'Yoga is so much more than asana and I always attempt to include a hint of that in my classes. I think of it as scattering a handful of seeds into the earth. Who knows one or two may sprout.'
Despite being one of a1000yoga's most experienced teachers, Indira believes her journey has only just begun. 'I'm realizing just how long and relentlessly demanding the process of genuine inner transformation through yoga actually is - particularly in the socio-cultural mayhem of the 21st century. I've learned to treat myself with a kind of disciplined compassion mixed with a good dollop of humor! I suspect that's seeped into my teaching 'style' as well!'